The automatic ice cream cone production line is integrated equipment newly designed in our factory, which can automatically realize the functions of paste mixing, automatic grouting, automatic baking, automatic discharging, and cooling. This large-scale wafer ice cream cone production line has a large output, which can produce 5000-9000 ice cream cones per hour on average.
Technical parameter of the integrated cake cone processing line
| | |
| --- | --- |
| Machine Model | TZ-33 |
| Capacity | 6250pcs/hour |
| Dimension | 9000*1200*2500mm |
| Gas Consumption | 6-8Cbm/hour |
| Voltage | 380V 50HZ 3PHASE |
| Weight | About 10 ton |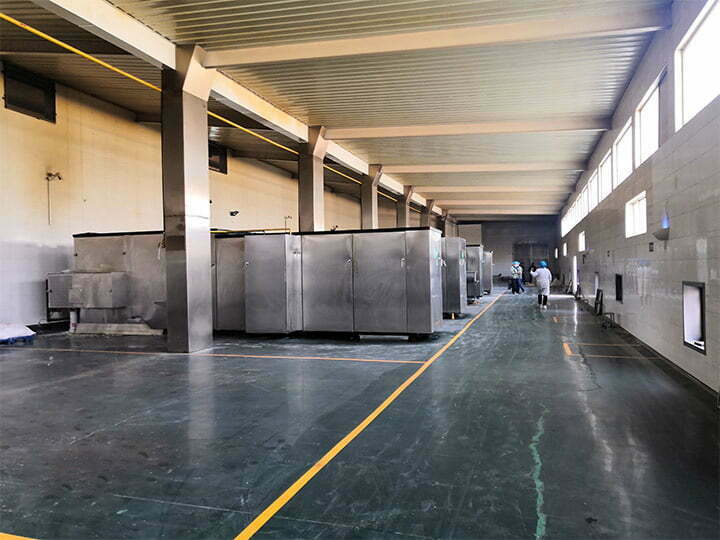 How does this automatic wafer ice cream cone production line work?
Step 1 Paste mixing
There is an automatic batter beating system at one end of the ice cream cone line, which can automatically make the raw materials into a uniform concentration of batter.
Step 2 Paste injecting
The grouting system in the ice cream cone processing line has an integrated design and is controlled by a microcomputer, so it is very accurate and efficient, and it can quantitatively inject batter into each baking hole.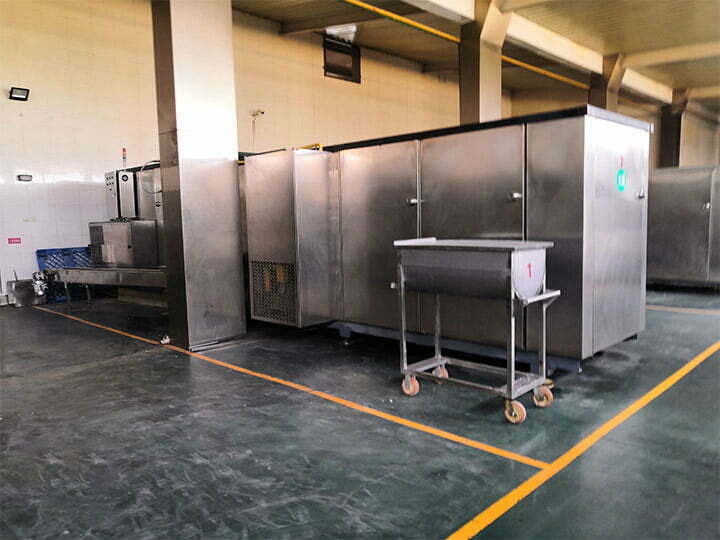 Step 3 Paste baking
The heating method of the automatic wafer ice cream cone machine usually only uses gas heating, that is, natural gas heating and liquefied gas heating. This is because the output of the fully automatic cake cone production line is very large. If electric heating is used, the energy consumption is huge and the production cost is high. The use of gas heating can save costs.
Step 4 Ice cream cones automatic discharging
The baked ice cream cones fall into the belt of the automatic conveyor and are automatically lined up and discharged through the machine's outlets. The hot ice cream cone cools gradually as it is transported. Finally, workers collect the cones uniformly into the boxes.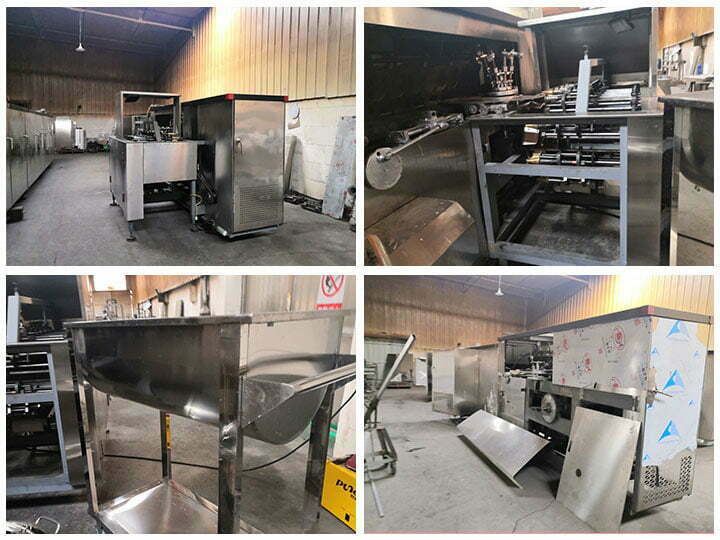 Step 5 Cake cone sorting and collecting
When the ice cream cones are baked, each cone will fall into the automatic conveyor for rapid cooling and automatic sorting. Finally, workers are packed into cartons. Before the ice cream cones are put into the carton, workers usually put a layer of plastic film in the carton. The purpose of this is to prevent the ice cream cones from getting damp and affecting the taste.
Main features of the industrial cake cones baking line
1. Highly automated production process
The fully automatic wafer cone line has a high degree of automation and can replace a lot of manual labor. The commercial cake cone making machine can automatically and continuously complete the production processes of mixing, grouting, baking, and discharging, and the entire process only needs 1-2 workers to operate the PLC control system, which is safe and reliable.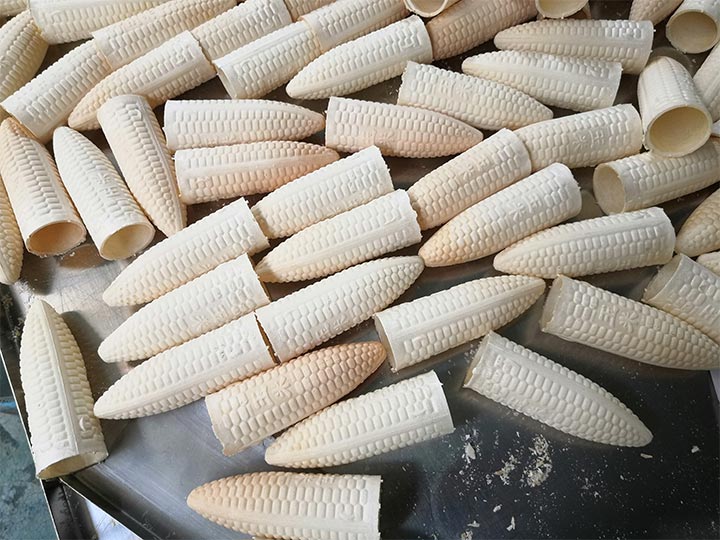 2. Gas heating is more energy efficient
The heating methods of this integrated wafer cone processing line are mainly natural gas heating and liquefied gas heating. Customers can choose according to their own production conditions. The gas heating method has higher thermal efficiency and lower unit price, so it is more energy-efficient and can help customers reduce production costs.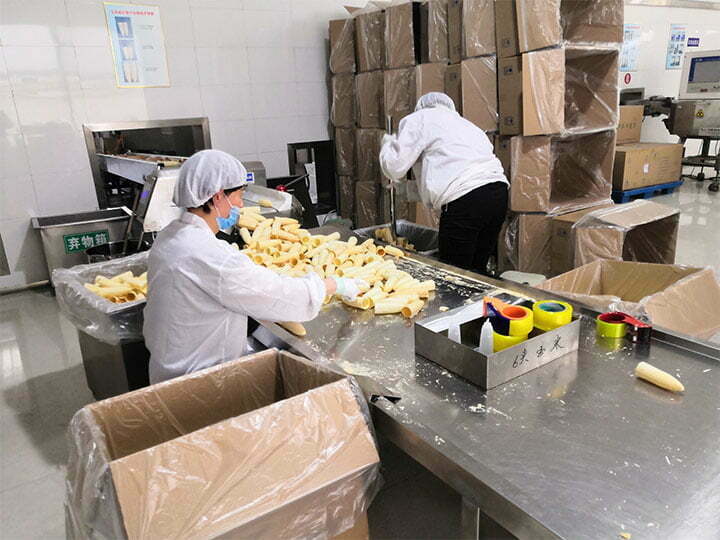 3. The shape of the wafer cake cones can be customized
In order to provide customers with more choices, we have designed and manufactured as many as 50 kinds of molds, so this machine can make various shapes of ice cream cones, such as sweet corn shape, cup shape, coffee tube, cone shape, flower shape, square shape , Heart shape, fish shape, letter pattern type, etc. Of course, we can also customize the shape of the ice cream cone according to the pattern provided by the customer.